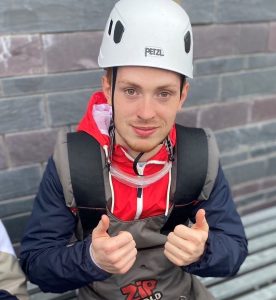 Meet Ryan. He is one of our Projects Engineers. He is relatively new to the projects team, having also worked on the service desk.
Ryan has built good relationships with clients, often meeting them on site and has a good technical understanding to help deliver projects.
We've asked Ryan to share a day in his life as a projects engineer.
1. How would you describe your role as a projects engineer?
I am the one who carries out and deploys a project to meet a client's expectations and requirements. I need to keep in close contact with the client throughout the project to ensure it stays on track and that what is being delivered meets all requirements.
2. Take us through a typical day
When I am in the office, my day starts off with a coffee while I spend some time reviewing my current projects and what I have scheduled in for the upcoming week. I will also make sure I am familiar with any other upcoming projects so I can support as needed.
Projects vary and one day I could be preparing laptops for clients and the next day I could be on site implementing and deploying a new solution. A recent project was an overhaul of a client's systems and emails where we migrated them from G suite to Microsoft 365, as well as new installation of desktops and laptops. I have also recently completed a project to carry out network changes for one of our clients – creating separate networks to segregate certain aspect of their infrastructure and improve the network security.
3. Tell us something you do that clients may not be aware of.
Clients do not always see what goes on behind the scenes of a project. A huge amount of work is put in to make sure the technical side is right and a change is completed on time. This can sometimes mean working in evenings and on the weekends around working hours.
4. What can clients do to help you?
A client really needs to know their requirements for a project. We need to have full and accurate requirements and understand what they are trying to change to be able to deliver a full solution. For us, that includes knowing who the key stakeholders are to facilitate the project and good communication is always key – to and from the client.
5. What's the best thing about your job?
I have to say that the best part of my job is the wide variety of projects that I am involved in. It's so varied – doing laptop builds one day to setting up a new broadband line or upgrading and rebuilding servers the following day. There is always something new which is a great opportunity to learn new things.
Another good thing about my job is being able to meet the clients when onsite and developing a good relationship with them.
6. What do you like to do in your spare time?
In my spare time I enjoy doing a variety of things, this goes from binge watching Netflix, going on walks with my girlfriend and her family down to the beach, a sporadic shopping trip on the weekend or taking my girlfriend's dog for a walk.
Typically, on the weekends I spend my time watching the premier league, if I'm not watching football then I'm playing for a local team although this isn't always fun when its cold and pouring with rain.