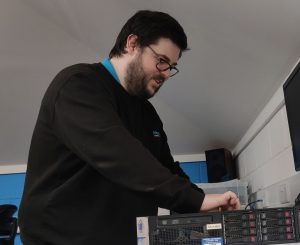 Meet Josh. Many of you will know him as one of our Service Desk Team Leaders. But how well do you know him and what he does in his role to support customers with their IT requests?
After 10 years in IT, Josh knows his stuff and has seen many IT set ups, issues and requests from across the spectrum. We've asked him a few questions to share a day in his life as a service desk engineer.
1. How does your day usually start on the service desk?
My role is slightly different to a typical service desk engineer as I have an overview of all on-going and incoming work and requests.
I start my day at just before 8, where I come into the office and immediately make a cup of coffee!
In my first hour I review the unassigned ticket list, which could be requests that come in via phone or email and include ones that come in overnight. I also monitor alerts from automatic tickets which are generated from customer sites e.g. a server goes offline. I prioritise the critical issues and start on those immediately.
I also update non-critical tickets, set priorities and make sure the assigned team member has all the information they need. The service desk technicians can then hit the ground running with their assigned queue.
One of the key aspects of the service desk is to be adaptable to ensure we respond quickly to the critical issues that come in, but also maintain the non-urgent work which is also important.
2. What types of customer enquiries do you resolve?
We get a whole spectrum of issues or requests from customers. As an outsourced partner, we have to go beyond being a 'jack of all trades' – we need to know in-depth information about a lot of topics! And when we come up against something we don't know, we have to learn fast.
We service a lot of different customers so we need to understand different set ups, different software, hardware etc. It means that enquiries can vary wildly on a day to day basis, but it keeps what we do interesting.
Some common things we deal with include anything from account lock outs, printing issues and email send/receive issues to network problems, working from home assistance, new starters/leavers and Microsoft Office feature questions.
Some of the less common requests usually involve specialist software or set ups that require methodical troubleshooting and documentation for future issues.
Genuinely after 10 years in IT I still get tickets where I think 'how has that happened?'
3.  Share something you do behind the scenes that customers may never be aware of.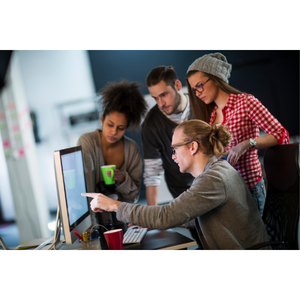 IT is an ever-changing landscape and we're always working to streamline, change and improve the customer experience. Customers don't see all the proactive work we are doing in the background to prevent potential issues arising. For example, we do monthly back up checks for all customers to avoid failure and annual back up reviews to ensure we know what is backed up and how.
We'll also do monitoring of servers and internet outages, and set alerts for potential problems. We can often send a fix to a computer without connecting and resolve issues before customers even know about it.
We also have a constant queue of 'proactive tickets' to improve experience for our customers.  For example, Windows feature updates or to block suspicious activity if we learn about a new hacking technique.
4.  What is the best and worst bits about working on the service desk?
The variety and volume of work are both the biggest positives and negatives! It sounds like a cliché, but no two days are the same. Service desk technicians gain a good variety of skills quickly and we cover so many industries – from aerospace to schools.
We're lucky that our directors are very involved in the day to day running of Wessex IT and they really have created a team environment – we take our wins and losses together.
The hardest bit of the job is that we encounter issues that are new to us, and for new technicians that is a huge learning curve. We have regular service desk meetings to discuss ongoing issues as a whole team, share feedback and ensure everyone is up to speed on projects so that anyone who picks up the service desk phone can help a customer.
5.  How can customers help you?
To get a question or issue resolved quickly, it really helps to have as much detail as possible when a ticket is raised. This could include screen shots, tell us if the issue happens to other people, explain as much detail and be available to walk us through problem so we can replicate it.
When we pick up an issue with a customer, we really are trying to get them up and running in the fastest time possible. A remote fix is usually fastest so sometimes that means we will need a customer to do something, such as unplug a cable. If a PC is not connecting to the internet, a five minute call to talk a customer through steps to fix the issue might be all we need to fix it. The alternative of visiting the site would take much longer.
6. What do you do in your lunch break/downtime?
We stagger our lunch break across the team to ensure we maintain coverage on the service desk. I spend time watching videos or chatting to other colleagues on lunch. I've recently got into Formula 1 racing and often start the week discussing the race at the weekend.
Find out more about Josh, and the rest of our team in Meet the Team.