New! Live Service Status Page
Your IT is a key part of your business and we want to make it as easy as possible for you to know if there are problems with any of our services, get updates more easily and know when to report something new. Introducing – our new Service Status page!
---
Access the Service Status page
You can access the Service Status page for updates directly at https://status.wessexit.com/  and you can also find it via the Client Area on our website (look for the "Service Status" button):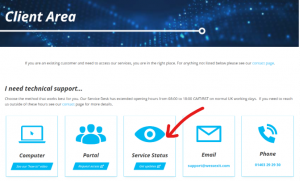 ---
Personalise your service status notifications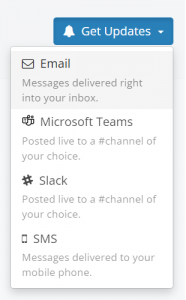 We have manually subscribed via email our primary contacts for all clients who have business-critical services like Cloud Voice and Cloud Servers.  You're in control however and can select what information you want to receive and how.
You can choose to receive updates via email, SMS, Teams and Slack and you tailor which services you want updates about (and which you don't) based on what's important to you and your business.
To do this, simply access the Service Status page, click on the Get Updates button and choose your preferences.
You can also subscribe other relevant people in your organisation to notifications about different services that may affect their department or services.
More about our dedicated Client Area
In the dedicated Client Area on our website, as well as the Service Status page, you will find a whole host of useful information to help you keep on top of your business's critical services. So, whether you need a 'how to' video, access to an application, to contact us or need us to access your system/laptop to resolve an issue this is where you need to go.
---
Need further information?
If you have any queries, you are more than welcome to contact us and we hope you will appreciate our knowledgeable and down-to-earth approach.
You can request a call back with one of our team using our online enquiry form or simply call the office number – 01403 292930.